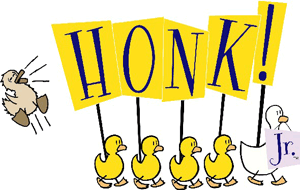 The Un-Common Theatre Company is thrilled to announce auditions for our 2018 Young Performers Production of Honk! JR.
Ugly looks quite a bit different from his darling duckling brothers and sisters. The other animals on the farm are quick to notice and point this out, despite his mother's protective flapping. Feeling rather foul about himself, the little fowl finds himself on an adventure of self-discovery, all the while unknowingly outwitting a very hungry Cat. Along the way, Ugly meets a whole flock of unique characters and finds out being different is not a bad thing to be.
Honk! JR. is a heartwarming celebration of being different that is sure to delight audiences of all ages with its sparkling wit, unique charm and memorable score.  Witty and hilarious, but also deeply moving, Honk! JR. will be a hit for the entire family.
Auditions for students in Grades 1 through 6 will be held on Sunday, December 17, 2017 beginning at 10:00 am BY APPOINTMENT ONLY.
Audition Info:
When:

Sunday, December 17, 2017
Beginning at 10:00am for Grades 1 to 6

Where:

Mansfield YMCA
40 Balcom Street
Mansfield, MA

Time:

By appointment only beginning at 10:00am
To make an appointment email auditions@uncommontheatre.org stating your name, grade, age, email address and telephone number. We will email you with an appointment time and more information.
Please prepare 16 bars from a song you are familiar with (Disney songs, Christmas Carols, etc). Please bring sheet music in the key in which you are singing for our piano accompanist. Please, no a cappela. Please bring a completed and signed audition form with a current SMALL photo and be sure to list all conflicts on the audition form calendar.
Rehearsals are scheduled on Sunday afternoons from 1:00-4:00 PM and Tuesday and Thursday evenings from 6:30-8:30 PM, generally in Mansfield. Not all cast members will be required to be at all rehearsals. A rehearsal schedule will be made once the show is cast. Extra nights may be added as the show nears production week. Cast members are allowed 3 absences only, none the two weeks prior to the show.
The production will take place March 9-11, 2018.
Production Fee:$175 with $125 for each additional family cast member (includes cast t-shirt).

Download Audition form here: .DOC | .PDF
For questions please contact Un-Common at auditions@uncommontheatre.org.