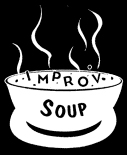 Do you LOVE Improv?
Do people think you are funny?
Are you a quick thinker?
If you are currently in 8th – 10th grade come and audition for a chance to join Improv Soup
Sunday May 6th between 4-5 pm in Foxboro, MA by appointment only
We are one of the few teen Improv Troupes in Massachusetts and are currently in our twentieth season. We perform long and short form Improv, based on audience suggestions, rehearse twice a month on Sunday evenings and perform one Friday a month in Foxboro, MA during the school year.
Email chrislowey@verizon.net to make an appointment giving your name, phone number, email address and grade.
For more info check our website at https://uncommontheatre.org/improv-soup or call Chris at (508)904-3939
Go on ….. make us laugh!