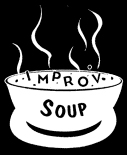 The  Improv Soup Troupe auditions for new members once a year in May.
If you LOVE Improv, people think you are funny and a quick thinker these auditions may be for you. If you are currently in 8th – 10th grade you can audition for a chance to join Improv Soup at these annual auditions
The auditions are held in Foxboro, MA by appointment only. The information about how to sign up will be posted on this website, sent out via email and social media some time March each year.
We formed in 1998 and are one of the few teen Improv Troupes in Massachusetts. We perform long and short form Improv, based on audience suggestions, rehearse twice a month on Sunday evenings and perform one Friday a month in Foxboro, MA during the school year.
Email chrislowey@verizon.net with any questions and watch this space!