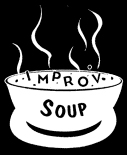 THINKING OF AUDITIONING FOR THE IMPROV SOUP TROUPE??
Auditions are being held on Sunday, May 5th between 4-5pm (by appointment only) in Foxboro MA for any student currently in 8th or 9th grade.
Improv Soup, now in its 20th season, is one of the few teen improv troupes in Massachusetts. Performing both long and short form improv, based on audience suggestions, the troupe rehearses twice a month on Sunday evenings and performs one Friday a month during the school year.
A couple of things to know before you audition:
There is no preparation needed for this audition. Anything you need to know will be taught to you when you arrive.

We are looking to add 5-8 new troupe members this year.

As we are auditioning many students, not everyone will be offered a position in the troupe.

An improv troupe requires many different personalities to be successful. With that in mind you should come prepared to have fun and be yourself at the audition so that we may see the many facets of your personality.

If you are not offered a position in the troupe at this time you may be interested in attending our Improv Soup Jr workshop which will be held in the fall. We will keep you on our email list and let you know when this workshop is scheduled.

If you are chosen to join the troupe you will be expected to be at Improv Soup rehearsals Sundays May 19th 5-6:30pm & June 9th 5-6;30pm and attend the Improv Soup show on June 14th at no charge. Assuming everything is a good fit on both sides you will then be invited to become a full-time member of the troupe starting September 2019.

When you officially join the troupe in September 2019 you will be expected to attend rehearsals and shows and pay the troupe fee of $150 per year.
To make your audition appointment, email chrislowey@verizon.net . Be sure to include your name, phone number, email address and grade.