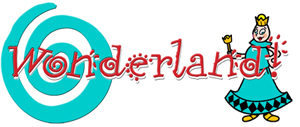 March 14-16, 2008
Download the Cast List…
Book Adapted by James Devita
Music and Lyrics by Bill Francoeur
Based on the novel Through the Looking Glass by Lewis Carroll
Director – Kelly Whelan
Music Director – Paula Bishop
Choreographer – Meg Lowey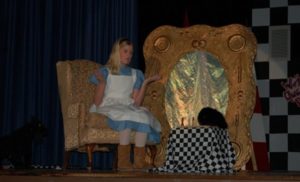 Wonderland! is an unabashedly silly adaptation of Lewis Carroll's Through the Looking Glass. With hip-hopping music, it is an upbeat, coming-of-age story that audiences of all ages will adore! You'll recognize some of your favorite familiar characters of Alice's Wonderland along with meeting dozens of new ones: a baseball team, a gospel group called The Responsibilities, a train conductor, star-struck tourists, knights and much more.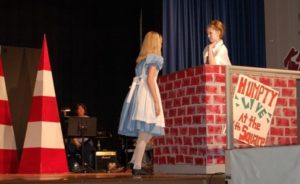 The eclectic mix of music that ranges from gypsy swing to doo-wop to bluegrass will have you grinning like a Cheshire cat!  You'll love the toe-tapping musical renditions of "Jabberwocky" and "The Walrus and the Carpenter" as well as other great numbers such as "Anything's Possible," "Step by Step" and the hysterical "I Was a Good Egg But Then I Done Went Bad," sung by Humpty Dumpty and the Dixie Chickens!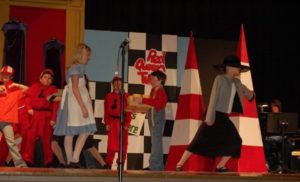 Wonderland! is Produced by special arrangement with Pioneer Drama Service, Inc.