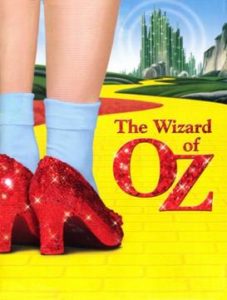 November 21- December 7, 2008
Download the Cast List…
By: L. Frank Baum

With Music and Lyrics by Harold Arlen and E. Y. Harburg
Background Music by Herbert Stothart
Dance and Vocal Arrangements by Peter Howard
Orchestration by Larry Wilcox
Adapted by John Kane for the Royal Shakespeare Company
Based upon the Classic Motion Picture owned by
Turner Entertainment Co. and distributed in all media by
Warner Bros.
Director – Bill Cunningham
Music and Orchestra Director – Rob Goldman
Choreographer – Dori Bryan
The Un-Common Theatre Company, in collaboration with Bay Colony Productions, begins the season with the classic story The Wizard of Oz, a delightful family musical based on the novel by L. Frank Baum.
Little Dorothy Gale of Kansas, like so many girls her age, dreams of what lies over the rainbow. One day Dorothy's dream comes true when she, her dog Toto, and her family's house are transported by a tornado to a bright and magical world unlike anything she has seen before. Unfortunately, she makes a mortal enemy of a wicked witch when the house falls on the hag's sister. Now, befriended by a scarecrow without a brain, a tin man with no heart and a cowardly lion – and protected by a pair of enchanted ruby slippers – Dorothy sets off along a yellow brick road for the Emerald City to beseech the all-powerful Wizard of Oz for his help to return home.
Follow Dorothy's journey over the rainbow and home back home again in this musical with the familiar songs of the classic motion picture including "Over The Rainbow", "Munchkinland" ("Ding Dong! The Witch Is Dead"), "If I Only Had A Brain", "We're Off To See The Wizard" ("Follow The Yellow Brick Road"), and many more.
The Wizard of Oz is presented by arrangement with TAMS-WITMARK MUSIC LIBRARY, INC.
Read a review of the show here: