SPRING PRODUCTION of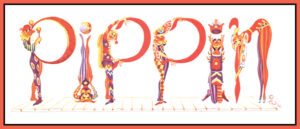 April  28-30, 2023
Book by
ROGER O. HIRSON
Music & Lyrics by
STEVEN SCHWARTZ
Originally Produced on the Broadway Stage by Stuart Ostrow
Directed on the Broadway Stage by Bob Fosse
2013 Broadway Revival Directed by Diane Paulus
Orchestrations for 2013 Revival by Larry Hochman
Director – Alex Sweeney
Music/Orchestra Director – Trey Lundquist
Choreographer – Marissa Stanley
Performances:
Friday, April 28, 2023, 7:30 pm
Saturday, April 29, 2023, 7:30 pm
Sunday, April 30, 2023, 2:00 pm
Location:
The Marilyn Rodman Performing Arts Center
1 School Street
Foxboro,  MA
The Un-Common Theatre Company continues our 2022-2023 season with our Spring Production of Pippin. With an infectiously unforgettable score from four-time Grammy winner, three-time Oscar winner and musical theatre giant, Stephen Schwartz, Pippin is the story of one young man's journey to be extraordinary. Winner of four 2013 Tony Awards including Best Musical Revival, this updated circus-inspired version of Pippin continues to captivate and appeal to the young at heart throughout the world.
Heir to the Frankish throne, the young prince Pippin is in search of the secret to true happiness and fulfillment. He seeks it in the glories of the battlefield, the temptations of the flesh and the intrigues of political power (after disposing of his father, King Charlemagne the Great). In the end, though, Pippin finds that happiness lies not in extraordinary endeavors, but rather in the unextraordinary moments that happen every day.
See photos from the show here….
The Un-Common Theatre Company is dedicated to creating an inclusive and diverse theater community. Un-Common Theatre does not discriminate on the basis of race, color, sexual orientation, gender identity, religion, national origin, or disability in its casting and participation.
Pippin is presented through special arrangement with Music Theatre International (MTI). All authorized performance materials are also supplied by MTI.