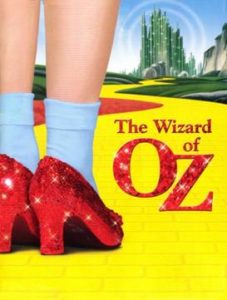 November 22-24, 2013
Download the Cast List…..
By L. Frank Baum
With Music and Lyrics of the MGM motion picture score
by Harold Arlen and E. Y. Harburg
Background Music by Herbert Stothart
Book Adaptation by John Kane
From the motion picture screenplay
Director and Choreographer – Michael Hammond
Music and Orchestra Director – Paula Bishop
The Un-Common Theatre Company opens our 34th season with our Fall Family Production of The Wizard of Oz (RSC).  The classic tale of Dorothy and Toto's adventure in Oz has melted hearts for more than seven decades with its unforgettable melodies and timeless themes of family, home and the courage to pursue dreams.
Adapted from L. Frank Baum's enduring children's story, The Wizard of Oz follows a Kansas girl's journey over the rainbow where she meets the Scarecrow, Tin Man, and Lion and other magical creatures.  Click your heels together and join us in traveling through the magical Land of Oz to meet the Wizard and obtain our hearts' desires. Watch out for the Wicked Witch of the West and her winged monkeys as we explore this fantastic musical treat for the whole family.
The Wizard of Oz is presented by arrangement with, and the music and dialogue material is furnished by, TAMS-WITMARK MUSIC LIBRARY, INC.

This program is supported in part by grants from the Mansfield, Norfolk and Wrentham Cultural Councils, local agencies which are supported by the Massachusetts Cultural Council, a state agency.