THINGS TO KNOW ABOUT UN-COMMON AUDITIONS
*******************************************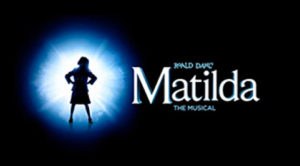 The Un-Common Theatre Company is thrilled to announce auditions for our Fall Production of Roald Dahl's Matilda The Musical, the story of an extraordinary girl who, armed with a vivid imagination and a sharp mind, dares to take a stand and change her own destiny.
Inspired by the twisted genius of Roald Dahl, the Tony Award-winning Roald Dahl's Matilda The Musical is the captivating masterpiece that revels in the anarchy of childhood, the power of imagination and the inspiring story of a girl who dreams of a better life.
Matilda is a little girl with astonishing wit, intelligence and psychokinetic powers. She's unloved by her cruel parents but impresses her schoolteacher, the highly loveable Miss Honey. Over the course of her first term at school, Matilda and Miss Honey have a profound effect on each other's lives, as Miss Honey begins not only to recognize but also appreciate Matilda's extraordinary personality. Matilda's school life isn't completely smooth sailing, however – the school's mean headmistress, Miss Trunchbull, hates children and just loves thinking up new punishments for those who don't abide by her rules. But Matilda has courage and cleverness in equal amounts and could be the school pupils' saving grace!
Packed with high-energy dance numbers, catchy songs, Matildais a joyous girl power romp. Children and adults alike will be thrilled and delighted by the story of the special little girl with an extraordinary imagination.
Auditions for students in Grades 2 through 12 will be held on Saturday, September 7, 2019 beginning at 10:00 am BY APPOINTMENT ONLY. To make your appointment please fill out your audition form by clicking the button below…

Please allow 2-3 days to receive your reply.
AUDITION INFO:
Who:

Students in Grades 2 through 12

Saturday, September 7, 2019
South Foxboro Community Center
382 South Street, Foxboro


Auditions:
Beginning at 10:00am


Callbacks (if called back):
6:00 – 8:00pm

By appointment only beginning at 10:00 am
Request an audition appointment by clicking on the button below.

If you are auditioning for the role of Matilda, you will receive sheet music for the song "Naughty" (with the appropriate section marked) to prepare, along with your audition time. For all other roles, please prepare 16 bars of a song either from Matilda or in the style of Matilda. Please bring sheet music in the key in which you are singing for our accompanist. If you are singing "Naughty" you do not need to bring the sheet music. Please, no a cappella. 
Rehearsals are scheduled on Sunday afternoons from 1:00-4:00 pm and Tuesday and Thursday evenings from 6:30-9:00 pm in Foxboro and Mansfield. Not all cast members will be required to be at all rehearsals. A rehearsal schedule will be made once the show is cast. Extra nights may be added as the show nears production week. Cast members are allowed 3 absences only, none the two weeks prior to the show.
The production will take place November 22-24, 2019 with two mandatory school shows on Thursday, November 21st (actors will need to miss a day of school).
Production Fee: $250 with $215 for each additional family cast member (includes cast t-shirt).
Download list of available roles HERE.
For questions please contact Un-Common at auditions@uncommontheatre.org.
*******************************************
THINGS TO KNOW ABOUT UN-COMMON AUDITIONS
Auditions for Un-Common shows are open to all those interested within the age ranges specified. No previous acting experience or affiliation with the theatre company is necessary.
An auditioner will audition with many actors and will be offered a role at the total discretion of the director, choreographer and music director. Parent participation, affiliation with Un-Common Theatre or past involvement will not be considered in casting decisions. Every performer comes with different strengths and qualities and casting decisions are made based on many factors including talent (singing, dancing and acting), look (age/height/coloring), how auditioners look/interact as a group, etc. This process is often difficult and the creative team (director, music director and choreographer) takes great care in casting the best mix of performers for each production.
We customarily present four productions throughout our season. Auditions and performance dates for these shows are:
| | | |
| --- | --- | --- |
| Auditions | Show | Performances |
| September | Fall Production | November/December |
| November | Winter Play | January |
| December | Young Performers Production | March |
| December or January | Spring Production | April/May |
| May | Young Adult Production | July |
| May | Improv Soup | Monthly October – June |
If you don't already receive our audition notifications, please email us at auditions@uncommontheatre.org to receive the latest audition and show information. Or like us on Facebook to keep updated!