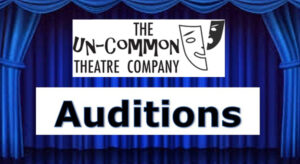 UN-COMMON THEATRE COMPANY COVID-19 PROTOCOLS
THINGS TO KNOW ABOUT UN-COMMON AUDITIONS
*******************************************
UN-COMMON THEATRE COMPANY COVID-19 PROTOCOLS
The number one priority of The Un-Common Theatre Company has and will always be the health and safety of those involved with our organization and that remains true as we continue to navigate the COVID-19 pandemic. We will be closely monitoring the CDC and Massachusetts state guidelines regarding COVID-19 and will be following all rules and restrictions to the best of our ability.
In our ongoing effort to reduce COVID-19 transmission and to keep everyone as safe as possible we will be requiring all eligible students, as well as staff and volunteers to show proof of full vaccination in order to participate. At this time we anticipate being mask optional during rehearsals and performances, but will continually monitor guidance and update our policies as needed. We will be taking this season one show at a time and appreciate everyone's flexibility if/when we have to make changes and pivot along the way.
If you have any questions, please contact us at info@uncommontheatre.org.
*******************************************
Do you LOVE Improv?
Do people think you are funny?
Are you a quick thinker?
If you are currently in 8th, 9th or 10th grade come and audition
for the
IMPROV SOUP TROUPE
Sunday May 21st between 4 & 5pm in
Foxboro, MA by appointment only
We are one of the few teen Improv Troupes in Massachusetts and are currently in our 25th season.

We perform long and short form Improv, based on audience suggestions

We rehearse twice a month on Sunday evenings in Foxboro, MA and perform one Friday a month in Easton, MA during the school year.
To sign up for an audition click HERE
Things to know before your audition, click HERE
If you have any questions, email Chris at soup@uncommontheatre.org
Go on ….. make us laugh!
*******************************************
THINGS TO KNOW ABOUT UN-COMMON AUDITIONS
Auditions for Un-Common shows are open to all those interested within the age ranges specified. No previous acting experience or affiliation with the theatre company is necessary.
An auditioner will audition with many actors and will be offered a role at the total discretion of the director, choreographer and music director. Parent participation, affiliation with Un-Common Theatre or past involvement will not be considered in casting decisions. Every performer comes with different strengths and qualities and casting decisions are made based on many factors including talent (singing, dancing and acting), look (age/height/coloring), how auditioners look/interact as a group, etc. This process is often difficult and the creative team (director, music director and choreographer) takes great care in casting the best mix of performers for each production.
We customarily present four to five productions throughout our season. Auditions and performance dates for these shows are:
| | | |
| --- | --- | --- |
| Auditions | Show | Performances |
| September | Fall Production | November/December |
| November | Winter Play | January |
| December | Young Performers Production | March |
| December or January | Spring Production | April/May |
| May | Young Adult Summer Production | July |
| May | Improv Soup Troupe | October – June |
*******************************************
If you don't already receive our audition notifications, please email us at auditions@uncommontheatre.org to receive the latest audition and show information. Or like us on Facebook to keep updated!