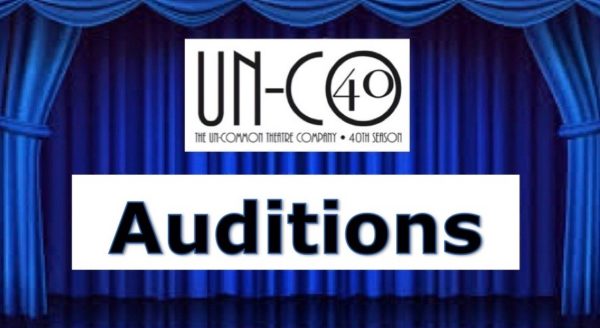 THINGS TO KNOW ABOUT UN-COMMON AUDITIONS
*******************************************
Auditions for students currently in Grade 9 through age 21 will be held in mid-May BY APPOINTMENT ONLY. We will begin accepting requests for audition appointments in early May. Please sign up for our mailing list and follow us on social media for the latest information on auditions.
THINGS TO KNOW ABOUT UN-COMMON AUDITIONS
Auditions for Un-Common shows are open to all those interested within the age ranges specified. No previous acting experience or affiliation with the theatre company is necessary.
An auditioner will audition with many actors and will be offered a role at the total discretion of the director, choreographer and music director. Parent participation, affiliation with Un-Common Theatre or past involvement will not be considered in casting decisions. Every performer comes with different strengths and qualities and casting decisions are made based on many factors including talent (singing, dancing and acting), look (age/height/coloring), how auditioners look/interact as a group, etc. This process is often difficult and the creative team (director, music director and choreographer) takes great care in casting the best mix of performers for each production.
We customarily present four to five productions throughout our season. Auditions and performance dates for these shows are:
| | | |
| --- | --- | --- |
| Auditions | Show | Performances |
| September | Fall Production | November/December |
| November | Winter Play | January |
| December | Young Performers Production | March |
| December or January | Spring Production | April/May |
| May | Young Adult Summer Production | July |
If you don't already receive our audition notifications, please email us at auditions@uncommontheatre.org to receive the latest audition and show information. Or like us on Facebook to keep updated!