FALL PRODUCTION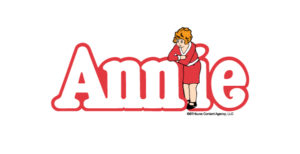 November 16 – 18, 2018
Book By
Thomas Meehan
Music by
Charles Strouse
Lyrics by
Martin Charin
Original Broadway Production Directed by
Martin Charnin
Based on Little Orphan Annie
by permission of Tribune Content Agency, LLC
Director – Meg Quin Dussault
Music and Orchestra Director – Eric Anderson
Choreographer – Alex Sweeney
Performances:
Friday, November 16, 2018, 7:30 pm
Saturday, November 17, 2018, 2:00 pm
Saturday, November 17, 2018, 7:30 pm
Sunday, November 18, 2018, 2:00 pm
Daytime School Performances:
Thursday, November 15, 2018
Location:
Orpheum Theatre (Marylin Rodman Performing Arts Center)
One School Street
Foxboro, MA
Pre-Sale Tickets:
Adults $25
Students/Seniors (65+) $20
Tickets will be available to purchase in Mid-September
Tickets Purchased at the Door:
Adults $27
Students/Seniors (65+) $20
The Un-Common Theatre Company begins our 39th season with our Fall Production of the family favorite – Annie.
Based on the popular comic strip by Harold Gray, Annie has become a worldwide phenomenon and was the winner of seven Tony Awards, including Best Musical. The beloved book and score by Tony Award winners, Thomas Meehan, Charles Strouse and Martin Charnin, features some of the greatest musical theatre hits ever written, including "Tomorrow", "Hard Knock Life" and "Easy Street."
With equal measures of pluck and positivity, little orphan Annie charms everyone's hearts despite a next-to-nothing start in 1930s New York City. She is determined to find the parents who abandoned her years ago on the doorstep of a New York City Orphanage that is run by the cruel, embittered Miss Hannigan. With the help of the other girls in the Orphanage, Annie escapes to the wondrous world of NYC. In adventure after fun-filled adventure, Annie foils Miss Hannigan's evil machinations… and even befriends President Franklin Delano Roosevelt! She finds a new home and family in billionaire, Oliver Warbucks, his personal secretary, Grace Farrell, and a lovable mutt named Sandy.
Annie is the perfect family-friendly musical!
Schedule your audition today and be part of bringing Annie to life on stage. Join us as we share this favorite story and its many unforgettable characters and songs.
Auditions for students in grades 2 through 12 will be held on Saturday, September 8, 2018 from 1:00 to 4:00 pm BY APPOINTMENT ONLY.
For those who are out of practice or would like to improve their auditioning skills, Un-Common is also offering an Audition Workshop, taught by Annie's creative team of Meg Quin Dussault, Eric Anderson and Alex Sweeney. This Audition Workshop is being held on Thursday, September 6, 2018, from 7:00 to 8:00 pm.
Do you think you have what it takes to be our next Annie? If you think you might be considered for the title role, remain at the workshop from 8:00 – 8:30 pm on Thursday, September 6th for some additional preparation.
Visit the Auditions page for more information on registering for the Audition Workshop and scheduling Auditions.
Annie is presented through special arrangement with Music Theatre International (MTI).