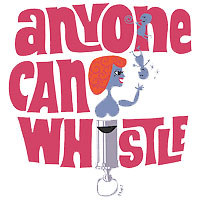 July 16-19, 2009
Book by Arthur Laurents
Music and Lyrics by Stephen Sondheim
Director – Christa Crewdson
Music Director – Linda Barbieri
Orchestra Director – Chris Charig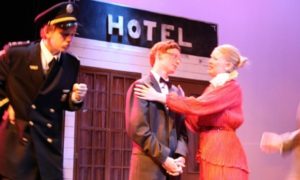 An absurdly funny fantasy by Stephen Sondheim and Arthur Laurents (West Side Story and Gypsy), Anyone Can Whistle tells the story of a corrupt mayoress (originally played by Angela Lansbury) who fakes a miracle to revitalize her bankrupt town (through the resulting pilgrim trade) and the ill-fated romance between the rational nurse out to expose the fraud and the easy-going doctor determined to enjoy the chaos it brings. In the end, the show delivers a poignant message about the importance of the individual in a conformist society but not before aiming its still-relevant barbs at government, religion, science and anything else that stands in its way! With its circus-like atmosphere, Anyone Can Whistle features a dazzling, melodic Broadway-style score which overflows with the youthful energy of experimentation, consisting of one showstopper after another.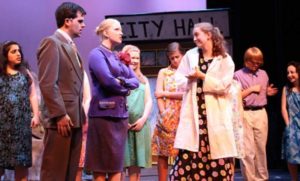 Anyone Can Whistle is presented through special arrangement with Music Theatre International (MTI).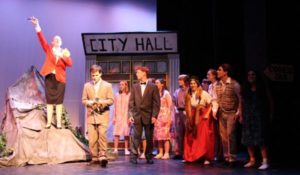 Read a review in the Sondheim Review.

This program is supported in part by grants from the Easton, Foxboro, Mansfield, Norfolk and Westwood Cultural Councils, local agencies which are supported by the Massachusetts Cultural Council, a state agency.