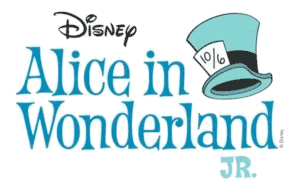 March 13-15, 2015
Download the Cast List…
Music and Lyrics by
Sammy Fain and Bob Hilliard

Oliver Wallace and Cy Coban
Allie Wrubel and Ray Gilbert
Mack David, Al Hoffman and Jerry Livingston
Music Adapted and Arranged and Additional Music and Lyrics by Bryan Louiselle
Book Adapted and Additional Lyrics by David Simpatico
Based on the 1951 Disney film Alice in Wonderland
and the novels "The Adventures of Alice in Wonderland"
and "Through the Looking Glass" by Lewis Carroll
Director – Sean Leehan

Music Director – Linda Barbieri
Choreographer – Kalen Hughes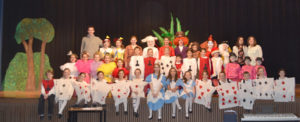 Lewis Carroll's famous inquisitive heroine comes to life in Disney's Alice in Wonderland JR, a delightful adaptation of the classic Disney film. Join Alice as she chases the White Rabbit, races the Dodo Bird, gets tied up with Tweedle Dee and Tweedle Dum, raps with a bubble-blowing Caterpillar, and beats the Queen of Hearts at her own game! The story is narrated by not one, but three Cheshire Cats! You'll also meet dozens of other wonderfully wacky characters including rock lobsters, talking fish, royal cardsmen, unbirthday partiers, as well as a group of mean-girl flowers.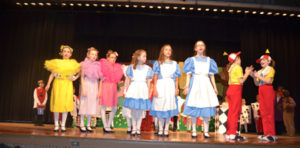 Disney's Alice in Wonderland JR is a fast-paced stage adaptation of the timeless film, featuring such classic Disney songs as "I'm Late," "The Un-birthday Song" and "Zip-A-Dee-Doo-Dah." The whole family will enjoy travelling down the rabbit hole and joining Alice in her madcap adventures in Wonderland!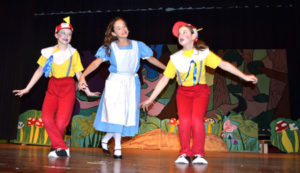 Disney's Alice in Wonderland JR is presented through special arrangement with Music Theatre International (MTI).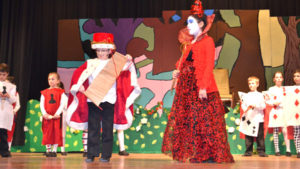 This program is supported in part by grants from the Easton, Mansfield, Norfolk and Wrentham Cultural Councils, local agencies which are supported by the Massachusetts Cultural Council, a state agency.