YOUNG PERFORMERS PRODUCTION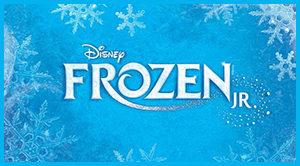 March  6 – 8, 2020
Music and Lyrics by
Kristen Anderson-Lopez and Robert Lopez
Book by
Jennifer Lee
Based on the Disney film written by Jennifer Lee
and directed by Chris Buck and Jennifer Lee
The original Broadway production of Frozen
was directed by Michael Grandage and produced by
Disney Theatrical Productions
Director – Matt Neary
Music Director – Christine Kasparian
Choreographer – Cate Lightbody
Performances:
Friday, March 6, 2020, 7:30 pm
Saturday, March 7, 2020, 2:00 pm
Sunday, March 8, 2020, 2:00 pm
Location:
Qualters Middle School
240 East Street
Mansfield, MA
Tickets will be available to purchase in early January
The Un-Common Theatre Company continues our 40th season with our Young Performers Production of the enchanting modern classic – Frozen JR.
Frozen JR. is based on the 2018 Broadway musical, and brings Elsa, Anna, and the magical land of Arendelle to life onstage. The show features all of the memorable songs from the animated film, with music and lyrics by Kristen Anderson-Lopez and Robert Lopez, plus five new songs written for the Broadway production.
A story of true love and acceptance between sisters, Frozen JR. expands upon the emotional relationship and journey between Princesses Anna and Elsa. When faced with danger, the two discover their hidden potential and the powerful bond of sisterhood. With a cast of beloved characters and loaded with magic, adventure, and plenty of humor, Frozen JR. is sure to thaw even the coldest heart!
Schedule your audition today and be part of bringing Frozen JR. to life on stage. Join us as we share this favorite story and its many unforgettable characters and songs.
Auditions for students in grades 1 through 6 will be held on Sunday, December 8, 2019 from 10:00 AM to 2:00 pm BY APPOINTMENT ONLY.
For those who are out of practice or would like to improve their auditioning skills, Un-Common is also offering an Audition Workshop, taught by Meg Quin Dussault, director of our current production of Matilda, and Christine Kasparian music director of Frozen JR., and featuring Matt Neary and Cate Lightbody, director and choreographer of Frozen JR. This Audition Workshop is being held on Tuesday, December 3, 2019, from 7:00 to 8:30 pm.
Visit the  Frozen JR. Auditions  page for more information on scheduling and the Frozen JR. Audition Workshop page for more information on the Audition Workshop.
Frozen JR. is presented through special arrangement with Music Theatre International (MTI).