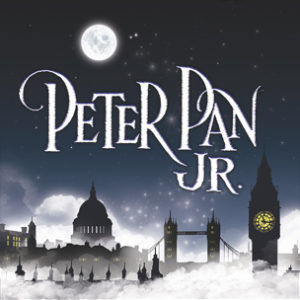 March 8-10, 2019
A Musical Based on the Play by
Sir J.M. Barrie
Lyrics by
Carolyn Leigh
Music by
Morris "Moose" Charlan
Additional Lyrics by
Betty Comden and Adolph Green
Additional Music by
Jule Styne
Originally directed, choreographed and adapted by
Jerome Robbins
Director  – Andi Stebbins
Music Director – Linda Barbieri
Choreographer – Nicole Spirito
Performances:
Friday, March 8, 2019, 7:30 pm
Saturday,, March 9, 2019, 2:00 pm
Sunday, March 10, 2019, 2:00 pm
Location:
Qualters Middle School
240 East Street
Mansfield, MA
Pre-Sale Tickets:
Adults $15
Students $12
Tickets will be available to purchase in early January
Tickets Purchased at the Door:
Adults $18
Students $15
The Un-Common Theatre Company continues our 39th season with our Young Performers Production of the classic children's tale – Peter Pan JR.
Peter and his mischievous fairy sidekick, Tinkerbell, visit the nursery of the Darling children late one night and, with a sprinkle of pixie dust, begin a magical journey across the stars that none of them will ever forget. In the adventure of a lifetime, the travelers come face to face with a ticking crocodile, a fierce Indian tribe, a band of bungling pirates and, of course, the villainous Captain Hook.
Featuring the iconic songs, "I'm Flying", "I've Gotta Crow", "I Won't Grow Up" and "Neverland",  Peter Pan JR. is full of magic, warmth and adventure. Peter Pan JR. is the perfect show for the child in all of us… who dreamed of soaring high and never growing up! 
Peter Pan JR. is a heartwarming celebration of being different – the perfect family-friendly musical that is sure to delight audiences of all ages!
Schedule your audition today and be part of bringing Peter Pan JR. to life on stage. Join us as we share this favorite story and its many unforgettable characters and songs.
Auditions for students in grades 1 through 6 will be held on Saturday, December 9, 2018 from 10:00 AM to 1:30 PM BY APPOINTMENT ONLY.
For those who are out of practice or would like to improve their auditioning skills, Un-Common is also offering an Audition Workshop, taught by Meg Quin Dussault, director of our current production of Annie, and Linda Barbieri, music director of Peter Pan JR., and featuring Andi Stebbins and Nicole Spirito, director and choreographer of Peter Pan JR. This Audition Workshop is being held on Thursday, November 29, 2018, from 7:00 to 8:30 PM.
Visit the Auditions page for more information on registering for the Audition Workshop and scheduling Auditions.
Peter Pan JR. is presented through special arrangement with Music Theatre International (MTI).