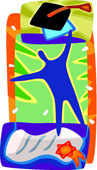 CONGRATULATIONS TO OUR 2023 SCHOLARSHIP WINNERS!
Un-Common Theatre Company's Alumni Scholarship
India-Mae Fraser
Oberlin College & Conservatory

Melanie Kaplan
University of Hartford
The Nancy DiPietro Memorial Scholarship
Amelia Allen
NC State University
Young Performers Director Scholarship
Julia Erickson
Pace University
 The Un-Common Theatre Company awards four $500 Scholarships
each year to high school seniors to recognize their extensive participation in the arts during high school as well as encourage them to continue to participate in the arts in the future.
The Un-Common Theatre Company Alumni Scholarships
are awarded to two graduating high school senior who have participated in any aspect of an Un-Common Theatre Company production including acting, directing, pit musician or technical assistance.
The Nancy DiPietro Memorial Scholarship
In the spirit of Nancy DiPietro, this scholarship will be for a person who over achieves without being asked and without looking for recognition; they are helping because they enjoy working with Un-Common, they enjoy learning and they enjoy being a part of something bigger than just themselves. This can be (but not limited to) someone who helped younger kids by being a leader, a cast member who took initiative to work with others without being asked or a tech person who went above and beyond. While our traditional scholarships require students to write essays and give some background about themselves, this recipient is nominated by the board.
The Young Performers Director Scholarship
is awarded to the high school junior or senior who directed the Young Performers Production in recognition of the amount of work the director puts into creating the this production.
The  applicants for the Mansfield High School and Un-Common Alumni Scholarships must meet the following requirements:
♦ Involvement in music or theatre 3 out of 4 years during their high school years
♦ An interest in pursuing music or theatre in the future
♦ Continuation of education at an accredited 2 or 4 year institution.
♦ Must have previously participate on stage or behind the scenes of an Un-Common Theatre production or  program.