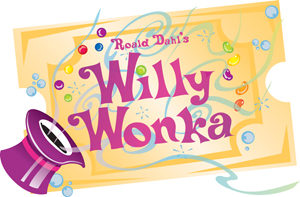 November 16-18, 2012
Download the Cast List…..
Music and Lyrics by Leslie Bricusse and Anthony Newley
Adapted for the Stage by Leslie Bricusse and Allen McDonald
Based upon the book "Charlie and the Chocolate Factory" by Roald Dahl
Director and Choreographer – Michael Hammond
Music and Orchestra Director – Paula Bishop
The Un-Common Theatre Company opens our 33rd season with our Fall Family Production of Roald Dahl's Willy Wonka. Un-Common is continuing the tradition of bringing kids and adults, parents and grandparents together on stage for a truly family-oriented theatrical experience.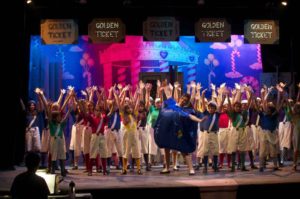 This fun adventure will begin as we explore Roald Dahl's timeless story of the world-famous candy man and his quest to find an heir. This classic comes to life in this stage adaptation of Charlie and the Chocolate Factory and features the songs from the timeless family film Willy Wonka and the Chocolate Factory including The Candy Man, Pure Imagination, I Want it Now! and I've got a Golden Ticket.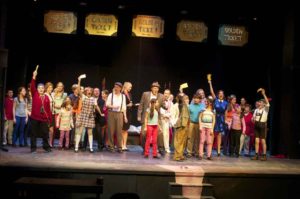 Roald Dahl's Willy Wonka follows the enigmatic candy manufacturer as he stages a contest by hiding five golden tickets in five of his scrumptious candy bars. Whoever comes up with these tickets will win a free tour of the Wonka factory, as well as a lifetime supply of candy. Four of the five winning children are insufferable brats: the fifth is a likeable young lad named Charlie Bucket who takes the tour in the company of his equally amiable grandfather. The children must learn to follow Mr. Wonka's rules in the factory – or suffer the consequences. This scrumdidilyumptious musical is guaranteed to delight everyone's sweet tooth.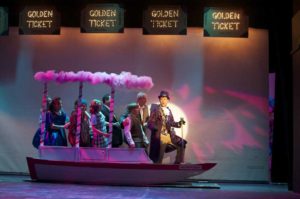 Roald Dahl's Willy Wonka is presented through special arrangement with Music Theatre International (MTI).

This program is supported in part by grants from the Easton, Franklin, Mansfield and Norfolk Cultural Councils, local agencies which are supported by the Massachusetts Cultural Council, a state agency.