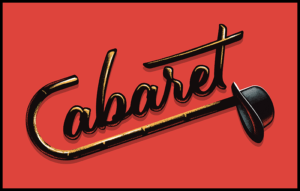 AUDITIONS FOR CABARET (1998 VERSION)
The Un-Common Theatre Company is thrilled to announce auditions for our Young Adult Production of Cabaret. Daring, provocative and exuberantly entertaining, Cabaret explores the dark and heady life of Bohemian Berlin as Germany slowly yields to the emerging Third Reich.
In a Berlin nightclub, as the 1920's draw to a close, a garish Master of Ceremonies welcomes the audience and assures them they will forget all their troubles at the Cabaret. With the Emcee's bawdy songs as wry commentary, Cabaret explores the dark, heady, and tumultuous life of Berlin's natives and expatriates as Germany slowly yields to the emerging Third Reich. Cliff, a young American writer newly arrived in Berlin, is immediately taken with English singer Sally Bowles. Meanwhile, Fräulein Schneider, proprietor of Cliff and Sally's boarding house, tentatively begins a romance with Herr Schultz, a mild-mannered fruit seller who happens to be Jewish. Musical numbers include "Willkommen," "Cabaret," "Don't Tell Mama" and "Two Ladies."
The Un-Common Theatre Company is dedicated to creating an inclusive and diverse theater community. Un-Common Theatre does not discriminate on the basis of race, color, sexual orientation, gender identity, religion, national origin, or disability in its casting and participation.
Auditions for students currently in grade 9 through the age of 21 will be held on Saturday May 20, 2023 beginning at 12:00 pm BY APPOINTMENT ONLY.
Cabaret is intended for mature performers and audiences.  The show contains strong language, violence, sexual dialogue and situations, drug and alcohol use, antisemitism, homophobia and discrimination. We strongly urge all performers and parents to review the show material before deciding to audition.
All auditioners under the age of 18 will require signed authorization from their parent/guardian that acknowledges their (both the parent/guardian and the auditioners) understanding of the adult nature of this show. 
To make your appointment please fill out your audition form by clicking here:

Please allow 5 days to receive your reply.
At this time, we anticipate being mask optional for auditions, rehearsals, and performances, but will continually monitor guidance from the CDC and the state of Massachusetts and reserve the right to update our policies as needed.
Audition details for students currently in grade 9 through 21:
Saturday, May 20, 2023
South Foxboro Community Center
382 South Street, Foxboro


By appointment only beginning at 12:00 pm
To request an audition appointment please click here.

Sunday, May 21, 2023
South Foxboro Community Center
382 South Street, Foxboro



Dance Call 5:30 – 6:30 pm (all auditioners)
Callbacks 6:30 – 9:00 pm (if called back)
Please prepare 30-60 seconds of a song either from the show or in the style of Cabaret. If you are auditioning for a specific role, please sing a song that the character sings from the show. Please bring sheet music in the key in which you are singing for our accompanist. Please, no a cappella. Click here for a breakdown of roles.
Rehearsals are scheduled on Sundays from 4:00-9:30 pm and Tuesday and Thursday evenings from 6:30-9:30 pm in Foxboro and Mansfield. Not all cast members will be required to be at all rehearsals. A rehearsal schedule will be made once the show is cast. Extra nights may be added as the show nears production week. All conflicts will be taken into consideration when casting roles. Cast members are not allowed any absences during tech week. 
The production will take place July 20-23, 2023.
Production Fee: $400 for one family member and $350 for each additional family members. This will be due at the first rehearsal. The production fees include a show t-shirt, professional pictures for downloading, and entrance for the cast member to the opening night party and the Sunday cast party. Like most everything in the past few years, our expenses have gone up, as such, so have our cast fees. However, we at Un-Common believe that theatre should always be accessible. As such, we do provide scholarships. If this is the one thing keeping your child from participating, please just reach out to the show producers, no questions asked.
For questions please contact Un-Common at auditions@uncommontheatre.org.