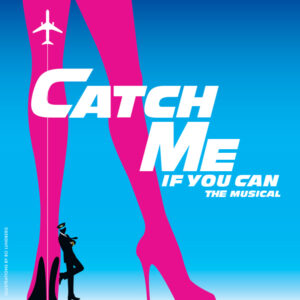 AUDITIONS FOR CATCH ME IF YOU CAN
The Un-Common Theatre Company is thrilled to announce auditions for our Spring Production of Catch Me If You Can. Based on the hit film and the incredible true story, Catch Me If You Can is the high-flying musical comedy about chasing your dreams and not getting caught.
Nominated for four Tony awards, including Best Musical, this delightfully entertaining show was created by a Tony Award-winning "dream team," with a book by Terrence McNally (The Full Monty Ragtime) and a swinging score by Marc Shaiman and Scott Wittman (Hairspray).
Seeking fame and fortune, precocious teenager, Frank Abignale, Jr., runs away from home to begin an unforgettable adventure. With nothing more than his boyish charm, a big imagination and millions of dollars in forged checks, Frank successfully poses as a pilot, a doctor and a lawyer – living the high life and winning the girl of his dreams. When Frank's lies catch the attention of FBI agent, Carl Hanratty, though, Carl pursues Frank across the country to make him pay for his crimes.
Auditions for students in Grades 7 through 12 will be held on Saturday, January 21, 2023 beginning at 10:00 am BY APPOINTMENT ONLY, with a dance call at 2:00 pm. To make your appointment please fill out your online audition form by clicking on the button below. 

AUDITION INFO:
Who:

Students in Grades 7 through 12


Saturday, January 21, 2023
South Foxboro Community Center
382 South St., Foxboro


Auditions:
Beginning at 10:00 am
Dance call at 2:00 pm


Callbacks (if called back):
3:00 – 5:00 pm

By appointment only beginning at 10:00 am
Request an audition appointment by clicking on the button above.
For all roles, please prepare 1 minute of a song of music in the style of the show. Please bring sheet music in the key in which you are singing for our accompanist. Please, no a cappella.
Rehearsals are scheduled on Sunday afternoons from 1:00-4:00 pm and Tuesday and Thursday evenings from 6:30-9:00 pm in Foxboro and Mansfield. Not all cast members will be required to be at all rehearsals. A rehearsal schedule will be made once the show is cast. Extra nights may be added as the show nears production week. Cast members are allowed 3 absences only, none the two weeks prior to the show.
The production will take place April 28-30, 2023.
Production Fee:$400 for one family member and $350 for each additional family members. This fee will be due at the first rehearsal. The production fees include a show t-shirt, professional pictures for downloading, and entrance for the cast member to the opening night party and the Sunday cast party. Like most everything in the past few year, our expenses have gone up, as such, so have our cast fees. However, we at Un-Common believe that theatre should always be accessible. As such, we do provide scholarships. If this is the one thing keeping your child from participating, please just reach out to the show producers, no questions asked.
Download list of available roles HERE.
For questions please contact Un-Common at [email protected].