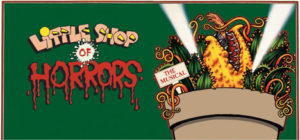 The Un-Common Theatre Company is excited to announce auditions for our Spring Production of Little Shop of Horrors, to be presented at the Orpheum Theatre in Foxboro April 6-8, 2018.
The meek floral assistant Seymour Krelborn stumbles across a new breed of plant he names "Audrey II" – after his coworker crush. This foul-mouthed, R&B-singing carnivore promises unending fame and fortune to the down and out Krelborn as long as he keeps feeding it, BLOOD. Over time, though, Seymour discovers Audrey II's out of this world origins and intent towards global domination!
Schedule your audition today and be part of bringing this charmingly tongue in cheek comedy to life on stage.
Auditions will be held for students in Grades 7 through 12 on Sunday, January 7, 2018 beginning at 10am by appointment only.
Audition Info:
Who:

Students in Grades 7 through 12

When and Where:

Auditions:
Sunday, January 7, 2018
10:00am – 1:30pm
Orpheum Theatre
One School Street, Foxboro
Callbacks:
Sunday, January 7, 2018
3:00 – 5:00pm
Orpheum Theatre
One School Street, Foxboro

Time:

Auditions are by appointment only
To make an appointment email auditions@uncommontheatre.org stating your name, grade, age, email address and telephone number. We will email you with an appointment time and more information.
Please prepare 16-32 bars of music from a song in the style of the show or from the show itself. Please be sure to bring the sheet music for the song with you for the piano accompanist. Please bring a completed and signed audition form with a current SMALL photo and be sure to list any and all conflicts on the Audition form calendar. 
Rehearsals are scheduled on Tuesday and Thursday evenings and Sunday afternoons in Mansfield. Little Shop of Horrors will be performed at the Orpheum Theatre in Foxboro April 6-8, 2018. The first rehearsal is Thursday, January 11th at 6:30pm. Extended rehearsals may be required as the show nears production week. Cast members are allowed 2 absences only, none the 3 weeks prior to show. A full rehearsal schedule will be made once the show is cast.
Production Fee: $235 for the first family member and $200 for each additional family member.
Download Audition form here: .DOC | .PDF
For more information or questions please email Janet at auditions@uncommontheatre.org.
All roles are available to all ages.