THE SPRING PRODUCTION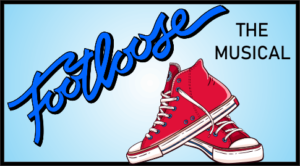 The Un-Common Theatre Company is excited to announce auditions for our Spring Production of Footloose, a musical version of the 1984 film with timeless appeal as it pits stuffy adults against rebellious teenagers in a small American town where dance is forbidden.
One of the most explosive movie musicals in recent memory bursts onto the live stage with exhilarating results. When Ren and his mother move from Chicago to a small farming town, Ren is prepared for the inevitable adjustment period at his new high school. What he isn't prepared for are the rigorous local edicts, including a ban on dancing instituted by the local preacher, determined to exercise the control over the town's youth that he cannot command in his own home. When the reverend's rebellious daughter sets her sights on Ren, her roughneck boyfriend tries to sabotage Ren's reputation with many of the locals eager to believe the worst about the new kid.
The heartfelt story that emerges is of a father longing for the son he lost and of a young man aching for the father who walked out on him. To the rockin' rhythm of its Oscar and Tony-nominated top 40 score and augmented with dynamic new songs for the stage musical, Footloose celebrates the wisdom of listening to young people, guiding them with a warm heart and an open mind.
Auditions for students in Grades 7 through 12 will be held on Saturday, January 11, 2020 from 10:00 am to 2:00 pm BY APPOINTMENT ONLY. To make your appointment please fill out your audition form by clicking on the button below . Please allow 2-3 days to receive your reply.

AUDITION INFO:
Who:

Students in Grades 7 through 12

Saturday, January 11, 2020
South Foxboro Community Center
366 South Street, Foxboro


Auditions:
10:00 am – 2:00 pm


Callbacks (if called back):
3:00 pm – 5:00 pm

Request an audition appointment by clicking on the button above.
Please prepare 16-32 bars of music from a song in the style of the show or from the show itself. Please bring sheet music in the key in which you are singing for our piano accompanist. Please, no acappela.
Rehearsals are scheduled on Sunday afternoons from 1:00-4:00 pm and Tuesday and Thursday evenings from 6:30-9:00 pm, generally in Mansfield or Foxboro.The first rehearsal is Sunday, January 19th at 1:00 pm. Not all cast members will be required to be at all rehearsals. A rehearsal schedule will be made once the show is cast. Extra nights may be added as the show nears production week. Cast members are allowed 3 absences only, none the two weeks prior to the show. Participation in Un-Common's production of Almost, Maine is considered to be a conflict.
The production will take place at the Marilyn Rodman Performing Arts Center/Orpheum Theatre in Foxboro May 1-3, 2020.
Production Fee: $235 for the first family member and $200 for each additional family member (includes cast t-shirt).
Download a list of available roles HERE. 
For those who would like to hone their auditioning skills, Un-Common is also offering an Audition Callback Workshop, taught by the Footloose team of Director Daniel Bolton and Choreographer Alex Sweeney. This Audition Workshop is being held on Tuesday, January 7, 2020, from 7:00 to 8:30 pm. Please visit the Audition Workshop page for more information on registering for the Audition Workshop.